Make your Virtual Graduation Special
Graduations mark a time of recognition, celebration and optimism for high school seniors and their families. This is a major milestone in any young adult's life, and should be celebrated as such! Although most in-person ceremonies have been cancelled due to the COVID-19 pandemic, schools have gotten creative when it comes to celebrating their seniors this spring.
Interesting in throwing a virtual graduation for your high school? Below I've laid out some ways to honor your seniors for fun alternatives to an in-person ceremony. With a little pomp and circumstance, you can help your students and their families celebrate each other and look towards the future with some hope and positivity!
Honoring Seniors on Social Media
One great way to celebrate your seniors is by highlighting each of them individually on social media! During the month leading up to graduation, many schools have used their time to post spotlights for each of their graduating seniors. This is a great way to engage your community while every is sitting at home, bringing out a bit of school pride each day.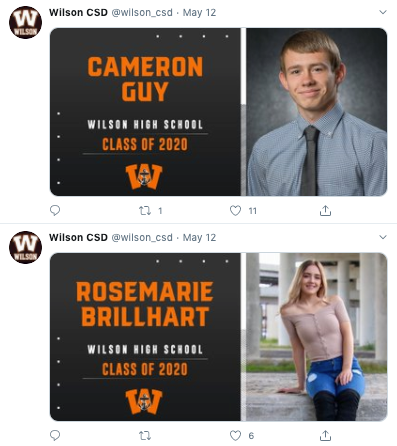 Each post can be as simple as a custom graphic with the student's name and picture. On the right is an example from Wilson Central School District in New York.
In the last week, Wilson has recognized a few seniors each day with posts like these. What has resulted is a lot of organic engagement, celebrating each individual as if they were walking up on stage to accept their diploma.
Source - Wilson CSD on Twitter
https://twitter.com/wilson_csd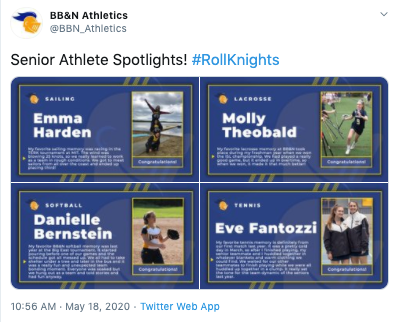 Other schools have added even more personalization to these senior spotlights! As shown on the left, Buckingham Browne & Nichols School in Cambridge, MA has incorporated a personal anecdote into each post celebrating their graduating athletes.
Source - BB&N Athletics on Twitter
https://twitter.com/BBN_Athletics
Hosting a Virtual Event on Graduation Day
Although a virtual ceremony certainly won't have the same impact as an in-person one, hosting an event on graduation day is a great idea. A virtual ceremony can be quite meaningful if done right, so check out some of the tips below when planning yours:
Choose a Speaker Wisely and Keep it Concise!
One of the benefits of the virtual ceremony is that you can choose from a wide array of speakers! Recruit alumni, parents or anyone notable in the school community to share their thoughts with the graduating class. A good commencement address will set the tone for the ceremony so choose wisely!
Importantly, when you decide on your speaker(s), make sure their speech is concise without compromising their message. Attention spans are far shorter when it comes to virtual events so try to keep it under 15 minutes. Another great way to encourage involvement is to incorporate a student speaker from the graduating class - students love to see themselves (or their peers) in the spotlight!
Quick Tip - have your speakers use custom Zoom backgrounds with school branding while they are giving commencement speeches!
Incorporate Traditions
If your school has any traditions for graduation ceremonies, do your best to incorporate these into the virtual event! For example, if your seniors normally sing a fight song before being handed their diplomas, put together a collaborative video of several students singing it together. Play this video before the "diploma ceremony" (example discussed below) to feed some school pride into your graduates and their families!
Another great way to incorporate traditions and school pride is to have each student contribute to a feel-good school-wide video. An example of this is a slideshow with a photo of each student wearing school gear! This is also a great idea to celebrate your student-athletes, as the example on the right shows Bellarmine Prep's video celebrating their senior baseball players!
Source - Bellarmine on Twitter
https://twitter.com/BellarminePrep
Diploma Ceremony
The last part of a virtual graduation ceremony is acknowledging the students who are receiving diplomas. A great idea for this is to set up a slideshow to highlight each individual student. This doesn't have to be over complicated! Have each senior submit a photo and set up a slideshow with each person's name and photo (check out Gipper, if you're looking for easy ways to create graphics honoring each senior). You can play this at the end of your virtual ceremony to wrap a bow around the days festivities. Students will love this - as each person's photo will be a cherished memory from their times at your school.
In the absence of traditional graduations and commencement, virtual graduation ceremonies can be quite meaningful. Use some of the tips above to plan and execute a virtual grad ceremony for your high school and give your seniors a proper send off!
I hope this was helpful and thanks so much for reading!
- Jack
Jack Zamore is the Chief Marketing Officer at Gipper. Gipper is a platform that helps high school athletic departments create professional sports graphics for social media - in seconds, on any device, and without needing any design experience. Learn more @ gogipper.com/athletics