Social Media tips for Athletic Directors: Staying organized
Social media is crucial for schools, from celebrating successful student athletes to commemorating new coaches and announcing event information. Even still, athletic directors have so many daily responsibilities that it can be difficult to budget time for posting to feeds. The key to squeezing it in - staying organized! While managing your social media outreach is not an easy task, staying organized can make your life a whole lot easier when it comes to keeping your program's feed up to date!
Amongst countless tips and tricks for staying on top of your social media game, I've chosen three to highlight below:
Tip 1: Keep an updated social calendar
One of the most time-consuming aspects of social media is not only choosing what to post, but also when to post. Creating a detailed content calendar can help you cut down on time spent making these decisions. This will allow you to schedule your posts ahead of time, so it takes a lot less thought when it comes to actually creating the content. Things like an "Athlete of the Week" are easy to institute as a consistent weekly post, and having a calendar can remind you to keep posting things like this regularly!
For this, I would recommend using Hootsuite - a social media marketing and management dashboard that's great for this type of planning ahead. On Hootsuite, you'll be able to schedule your posts ahead of time for all of your social media pages. This will allow you to stay organized and ensure you don't have to miss a post again.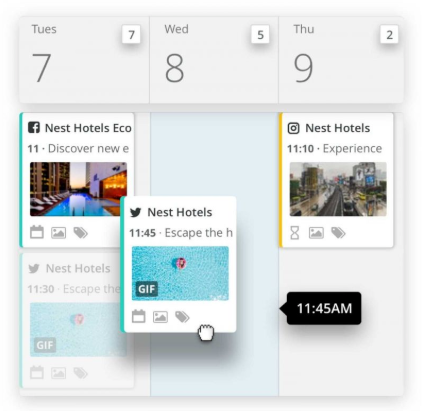 An example of what a Hootsuite scheduling calendar can look like, allowing you to plan ahead posts for all your social media accounts
Tip 2: Use an editing tool for consistent designs
Another great tip for organizing your social media approach is to use some semblance of an editing tool for creating designs and keeping them consistent. This helps in two major ways, one of which is to save you time and energy when it comes to actually designing the content for your posts. The second is that once you've saved those designs, you'll be able to reuse the templates for future posting, which is a huge time saver.
From simple announcement messages to detailed schedule graphics, keeping your program's brand constant in your visual media is important to becoming recognizable. This is made very easy with these types of editing tools, as you'll have the ability to choose from a range of templates and quickly brand them, simply by choosing your team colors.
For this, I would recommend using Gipper, which is the number one graphics creation platform for schools. Gipper's range of ready-made templates will give you a lot of different possibilities for designs, and customizing them to your program often takes less than a minute. Even better - it's been designed specifically for athletic directors so it's just about the easiest editing tool out there!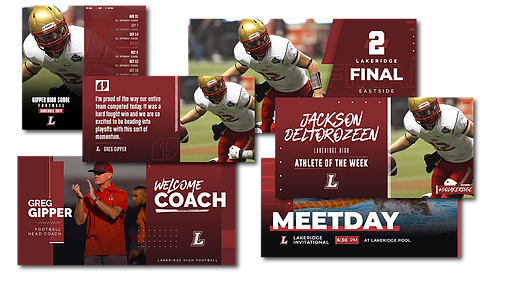 A selection of a few of the graphics offered on Gipper's platform, all easily customizable to your team's colors.
Tip 3: Link social media accounts for quick posting
The last tip for staying organized - link your social media accounts! If you're using an editing tool like I described above, linking your accounts will save you time when it comes to posting the content directly onto your feeds. Most editing tools allow for direct links to your accounts on Twitter and Facebook, so you can even post simultaneously to several accounts!
My recommendation for this is the same as above - Gipper! Gipper allows you to link your social media profiles directly to your account on the platform. Thus, instead of having to download a graphic and then post it to Twitter, you can create and post all from one location which saves a whole lot of time and energy.
Check out the video below to see how this feature works on Gipper:
Hope this was helpful and thanks so much for reading!
- Jack
Jack Zamore is the Chief Marketing Officer at Gipper. Gipper is a platform that helps high school athletic departments create professional sports graphics for social media - in seconds, on any device, and without needing any design experience. Learn more @ gogipper.com/athletics