Content that Converts: Building Fanship via Athlete-Generated Content
If content is king in 2022, then in 2023, athlete-focused content will rule.

With the rise of the "influencer" athlete, groundbreaking changes in Name, Image, and Likeness (NIL) rules in the NCAA, and the investment in behind-the-scenes content across sports organizations - the spotlight is on athletes. And that's how it should be.

Athletes are why we, as fans, care. It's not just about the performances on your playing surface of choice. Of course, results matter, but what truly drives fanship are the people.
The Rise of Athlete-Focused Content
With the rise of social media, fans' access to athletes has increased exponentially through their organizations' accounts, as well as through the athletes' social accounts themselves. Fans are following athletes' lives, particularly through social media, in a big way. In fact, the most followed person on Instagram isn't a movie star or A-List celebrity, it's soccer star Cristiano Ronaldo.

Sports organizations are starting to take note of this. Hundreds of millions of dollars are already being invested into athlete-focused content that goes beyond results - and deep into the personalities and backstories of the participating athletes.

Docuseries' like Formula 1's Drive to Survive and multi-organization All or Nothing (NFL, NCAA Football, Premier League) are prime examples of how athlete-focused content drives fanship like never before.

Paul Martin, a Producer on Drive to Survive, shared how the success of the show's athlete-focused content impacted ticket sales and fan engagement:

"Attendance [at the Austin Grand Prix] had gone up and tickets sold out in record time and people... ... just kept referencing the show. When a woman from Texas came up and told me her favourite driver was Esteban Ocon and I thought: 'Wow, this show has really broken through'." - Paul Martin, Drive to Survive Producer

If you work in athletic communications, it's your job to bring athlete personalities and stories to the forefront. However, this can be difficult if you lack the resources to consistently create and share athlete-driven content at scale. Let's face it: not everyone is going to have the opportunity for All or Nothing to come set up production in-house.

However, there is a form of athlete-focused content that is amazingly effective and attainable for athletic departments of any size and resource.
Introducing Athlete-Generated Content
While athlete-focused content encompasses both highly produced and less produced content centered on athletes, athlete-generated content is intentionally less or non-produced content. Athlete-generated content is designed to be authentic, often real time, first-person video content produced by the athletes themselves.

Here's an example of athlete-generated content from the New England Patriots: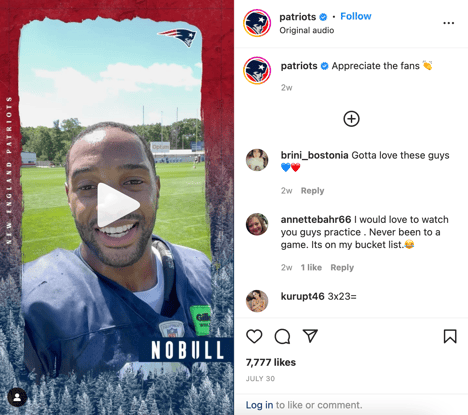 https://www.instagram.com/p/CgpI-H4F9Xh/?hl=en (embed if possible)

Your athletes are content creators. They are all used to creating their own video content on their personal social media accounts via Snapchat, Instragram stories, and TikTok. You are sitting on a content gold mine, you just may not realize it. Successfully unlocking these creators will transform your content strategy and results.

But, how do you do this at your program?
Athlete-Generated Content Ideas for Subprofessional Sports Programs
Athlete-generated content can span a variety of use cases and topics. Here's just a few ideas you can start leveraging today in your program:

Highlight student-athletes in a "day in the life" when not on campus

Showcase international athletes & their traditions/culture

Post-game or half-time reaction video from an athlete

Pre-game promotion from an athlete expressing why people should come to the game

Give a tour of the gym, locker room, or other facilities

Share student-athlete updates such as upcoming internships, awards, scholarships, recruitment/commitments, etc.

Celebrate wins and milestones such as senior night, signing day, etc.

Once you've settled on an idea, next comes the hard part. Usually this means sending emails back and forth to ideate and collect the content, then sending to your phone to upload to social media. Gipper strives to make this easier.

With Gipper's Content Requests tool, you can easily collect and distribute athlete-generated content at scale.
Content Requests Empower Athlete-Generated Content
It's a simple 3 step process: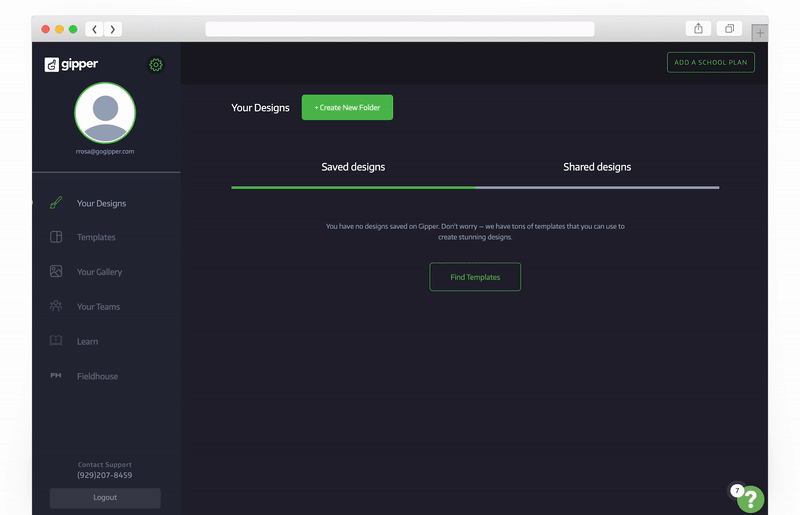 Create & send link to athlete(s) of choice
Include a prompt to drive direction: "Hi Matthew - can you please create a 60-sec selfie video promoting our upcoming game?"

Collect photos or videos
Once the video is submitted by the athlete, it will automatically be stored in your Gallery in Gipper

Share to social
Publish or schedule the video directly to social media, embed it in branded templates, or download to use in other campaigns - the choice is yours!
Conclusion
Athlete-generated content is the future of social media for sports programs of every size. Athlete-generated content allows you to deepen fan relationships with your program, while giving you a brand new avenue to tell your programs's story.

To learn more about Content Requests and how it can help your program, please visit: gipper.com/content-requests.



Frequently Asked Questions
More information about Gipper's new product, Content Requests below:
What is a content request?

Gipper's new product, Content Requests makes it simple to build a library of crowd-sourced content, generated by students, staff, parents, and more. Simply create a link in Gipper and share with others to upload their photos and videos. Their content then seamlessly appears in your Gipper account, ready to be used in any template, or posted directly to your social media accounts. Try it for free.

What are content requests used for?

Content requests can be used for a variety of use cases, but the feature is simple: share a link, and receive photos and videos directly to your Gallery.

What plans have access to content requests?

Currently, customers on the Pro plan can send content requests. To learn more about our plans, schedule a demo with our team.

How much does it cost?

Content requests are available in our Pro plan, which starts at $1500. Learn more about our plans or sign up for a free trial here.

How many requests can I send?

Pro plan users can complete up to 100 requests. We consider a request complete when the recipient has submitted content via the link. To learn more about sending Content Requests, schedule a demo with our team.