Create Social Media Content On the Go with the New Gipper Mobile App
Social media has fundamentally changed fandom.
Fans can get a live game experience on social media whether they're in the stadium or not. They get score updates instantaneously and see video replays of epic highlights seconds after they happen. They can talk and connect with their fellow fans online as if they were sitting next to each other in the bleachers.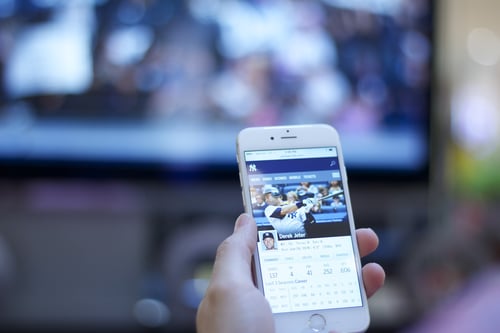 And while this is great for uniting a community around sports, this means that fans are demanding more from their favorite teams on social media. They want to come along for the ride — and someone has to drive the bus.
These demands are trickling down into all levels of sport. Fans of any tier — from professional to high school —want to follow along:
Grandparents want to know how their star quarterback in a different state is doing.

College recruiters want to keep a close eye on high school prospects.

Athletes on different teams want to cheer on their friends, even when they have a conflicting game.
And while professional sports organizations have been able to invest in social media experiences with funding, staff, and high-tech equipment, what about the athletics administrators that are running a one-person show?
Gipper aims to provide the solution for these administrators with our brand-new mobile app. Whatever roadblocks exist between you and a great social media presence for your program, the mobile app can help you push through them.
Problem: You're Rarely At Your Desk. Solution: Take Gipper On the Go
Sports don't happen in an office. The moments that fans want to see on their social feeds take place on the field, the track, the ice, the court — which means, as an athletic administrator, that's where you are.
The new Gipper mobile app is designed to go with you, so you can create and share social media content wherever you are.
Picture this: it's 10pm on a Wednesday and your Varsity girls' volleyball state qualifying game has just ended after extra sets. You're tired, hungry, and eager to get back home to see your family.
The last thing you want to do is run back to your office and spin up a final score graphic to post.
Now, you don't have to. Have your final score graphic ready with your branding during the last set. Update the score as fans are clearing the stands. Post it to Twitter, Instagram, and Facebook as you're walking out to your car.
Don't go back to your desk. Just go home.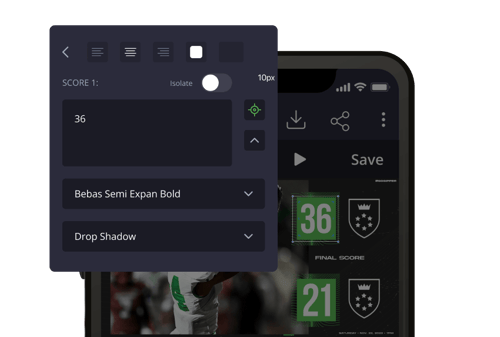 Problem: You Don't Have Time. Solution: Create & Share in Seconds
They say time is money. For the athletic administrator, time is sanity. Between organizing events, answering emails, and reasoning with parents, it's rare to find a free 15 minutes in your day.
The mobile app makes social media one less thing you have to find time for. Slot it into your schedule where you can, when you can.
Need to post a game day graphic but you're checking turf on your soccer field?
No worries — grab one of your pre-branded saved designs and update the game information. Then post your graphic to your social accounts from midfield. Check off your social media task at the same time as your facilities task.
Want to create a starting lineup graphic for your game later but have to head over to your off-campus ice rink to fix equipment?
Head on over to the rink. Create your graphic from scratch as you wait for maintenance to arrive:
Browse the Template Dashboard

Update your colors, logos, & more

Upload your media

Edit your text
Then, schedule it for later. Now you've got a social post that you don't have to give a second thought to.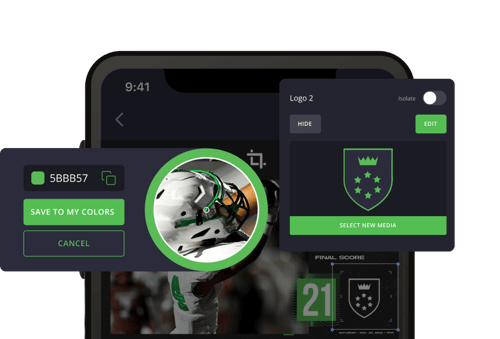 Problem: Fans Have High Demands. Solution: Post Updates in Real Time
Fan expectations for social media are higher than ever before. Fans are accustomed to real-time social media updates. They don't want the final game score a day late. They want it the moment the whistle blows.
The good news: a lot of the time, you're right there when the whistle blows. You're living the moment your fans want to see, and the Gipper mobile app allows you to capture and share that moment in seconds. Here's how:
Updated Saved Designs: Access any of your saved designs and make quick edits in real time. If you're branding is already set on a halftime score graphic, all you have to do is update the score and post it to social media.

On-Site Photos: Take a photo from the sidelines and drop it right into a template as you're editing. Snap a pic of the winning touchdown catch or grab a photo of the team post-game. No need to search through your entire photo library for what you're looking for — take a picture live!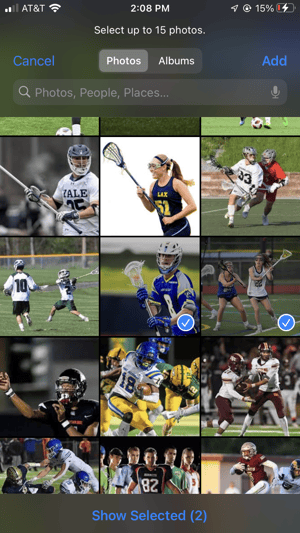 With high fan expectations comes great responsibility for any social media manager, especially the athletic administrator. Use the mobile app to meet those demands, without creating more work for yourself.
Why do I need social media anyway? Why now?
The answer is fans. And who makes up your fanbase? Your community.
Your students, athletes, parents, alumni, staff — all the people surrounding you and your program — are the ones packing your stadium on Friday nights. They're the ones buying tickets to watch your athletes play, the ones wearing your team's colors on game day. They're the ones cheering on your athletes from the sidelines.
Your community comes together through sports. No matter where in the world they are or what stage of life they're in, they all share a common passion for your teams, and social media allows them to unite under that passion.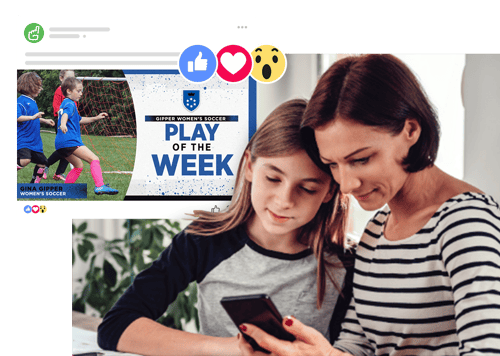 Sharing your wins, your highlights, your standout players on social media allows your community to rally around your program. And when your community rallies around your program, they rally around your athletes. That means more recognition for your athletes, more opportunities to be seen in their sport, and more ways they can build confidence in themselves.
As an athletic administrator, you have the power to bring your community together. The Gipper mobile app gives you that power in the palm of your hand. Learn more and download the Gipper mobile app today!
Mobile App FAQs
How can I download the Gipper mobile app?
The mobile app is available now on the App store. Download here!
Do I need a Gipper account to use the mobile app?
Yes. If you're interested in getting started with Gipper, you can view our plans and pricing options here.
What does the Gipper mobile app cost?
The mobile app is free to download for Gipper customers! If you're not yet a Gipper customer, you can try the mobile app as part of our free trial.
Is the Gipper mobile app available on Android?
The mobile app is not yet available for Android users. Stay tuned for a future announcement!