Template Tuesday: Brand New Graphic Designs for Game Day, Player Spotlight & More
In this special edition of Template Tuesday, we're launching a brand-new design concept! Introducing our Champions Premium templates, designed to take your graphics to the next level!
Athletics/Sports Graphics Templates
Game Day Graphic Templates: Multi-Sport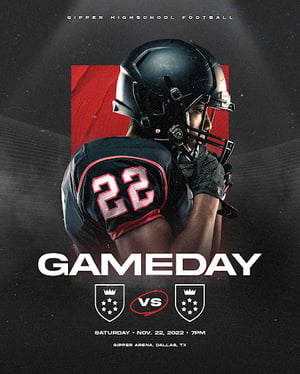 We're giving game day an epic new look! This brand new graphic template adds more advanced design elements like light, shading, and layered texture.
But here's the good news: these graphics may look more advanced but they're just as easy to make as any of our other templates. It looks like you got a Photoshop designer to custom-make this game day graphic from scratch, but the truth is it's all you (with a little help from Gipper)!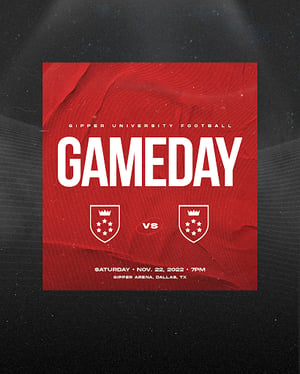 Looking for the same level of design but with a little simplicity? We created the same game day graphic template without the photo element. Focus your fan's attention on the clear facts of game day —who, what, when, and where — so you can pack the stands.
Next Game Preview Graphic Templates: Multi-Sport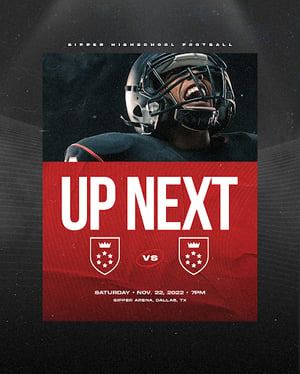 Whether you win or lose, one thing's for certain: you're on to the next. Get your fans excited for the next game on the schedule with our new Up Next graphic template.
Player of the Game Graphic Template: Multi-Sport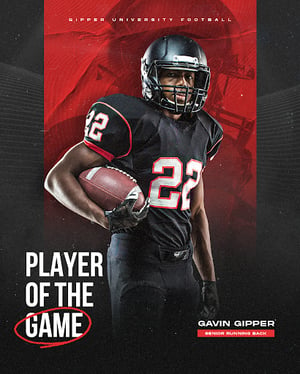 Give your athletes the elite treatment with this new player-of-the-game graphic template. Put your MVP in the spotlight — literally — with this template that features advanced design elements, a full-body cutout, and more!
Final Score & Player Highlight Graphic Templates: Multi-Sport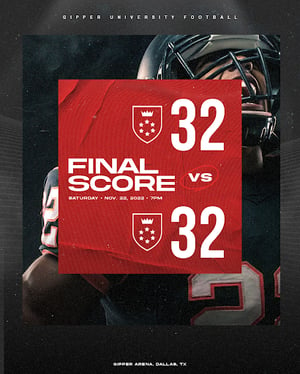 Level up your final score graphic by using an action shot as your backdrop. Our new final score graphic adds more visual and design elements to your score report.
Don't forget: All of our graphic templates are fully customizable, so if you don't like the photo backdrop or other elements on the template, feel free to remove them!
More Athletics/Sports Graphic Template Releases
Tournament Graphic Template: Basketball, Multi-Sport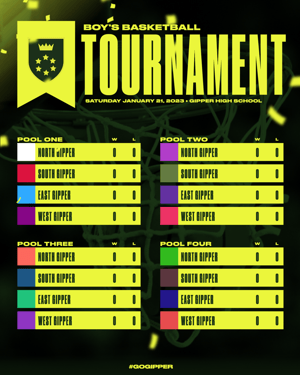 By popular customer request, we've added a new tournament graphic template to the dashboard! This template is perfect for basketball, volleyball, or other sports that follow a pool-play tournament structure. Keep your fans up-to-date on your tournament structure and how each team is playing as the tournament gets underway.
Multi-Player Spotlight Graphic Template: Multi-Sport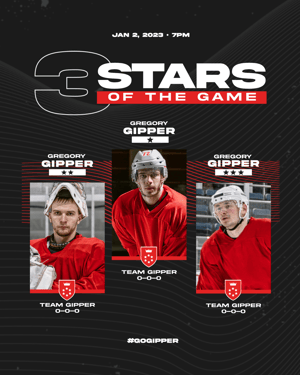 Let's face it, it can be impossible to choose just one MVP to highlight on social media, When you can't pick just one top performer, pick three! Highlight up to three star players on one graphic, and share their accomplishments with your social media fans!
League Standings Graphic Template: Multi-Sport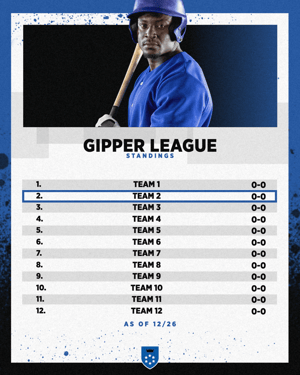 Keep your fans in the loop with exactly how your season is going! Update league standings, rankings, and team records on one graphic and share to social media. That way your fans can keep tabs on how your playoff campaign is looking!