Create Social Media Branding Assets on Gipper
What are social media branding assets??
Social media branding assets are any aspect of your social media presence that adds to your brand identity. More specifically, in this article, we will be looking at profile icons and headers!
Social media branding assets help you to create a distinct and recognizable identity and further drive your brand. Consistent and concise branding throughout your entire online presence will allow for greater search-ability – ultimately growing your reach and engagement. Take a look below at some examples from a few of our partner schools!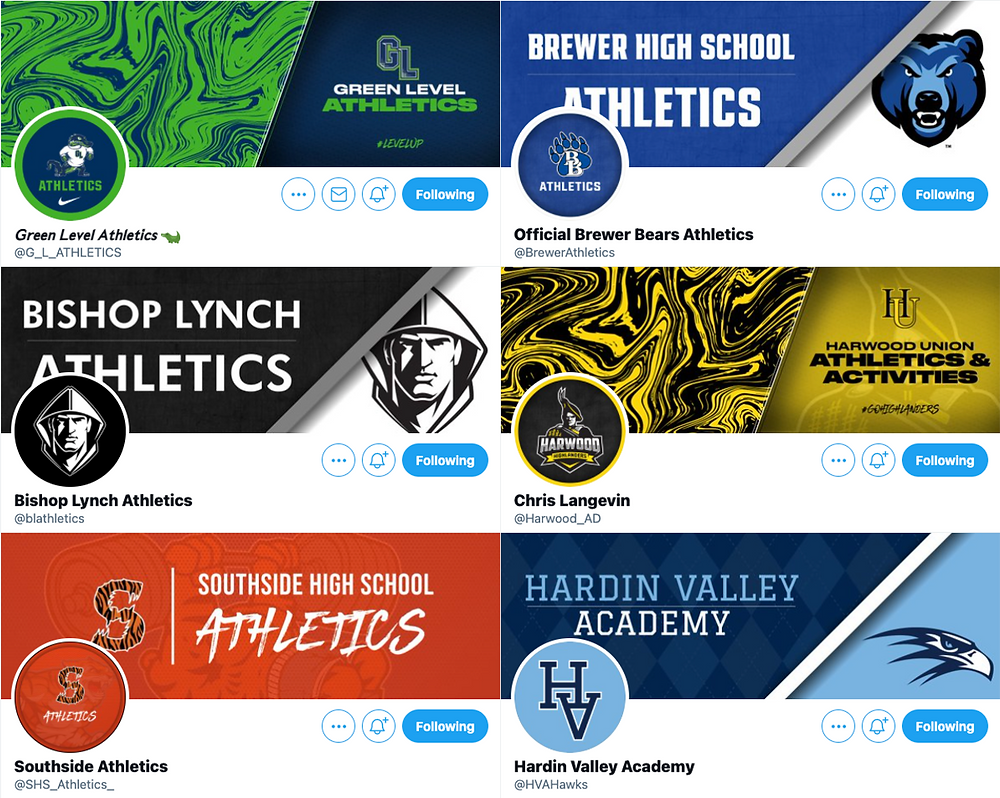 Examples of social media branding assets on Twitter – taken from Green Level HS, Brewer HS, Bishop Lynch HS, Harwood Union HS, Southside HS, and Hardin Valley Academy.
Step by Step Guide (feel free to follow along on the video as well)
Step 1 – Create a social media profile icon.
We have various templates for social media profile icons. Choose one that you like and go through the editing process. Once finished, download the content to your device!
Step 2 – Create a Twitter Header
Once you have created your Profile Icon, now make your Twitter Header. Go through the editing process and then download the content to your device.
Step 3 – Add the downloaded profile icon to your Twitter page.
Log into your Twitter account through Twitter's website. Go to your profile and then click "Edit Profile." Then, click on the small profile picture image in the circle on the left. Now choose the file from your device.
Step 4 - Add the downloaded Twitter header to your Twitter page.
On the same editing page, click the header to change the banner at the top of your Twitter page. Choose the file from your device.
Tip – Zoom In/Reposition Image
If you would like to zoom in or reposition the image, Twitter does have an option when adding the icon and header. You likely will not have to, as our templates have the optimal dimensions.
Wrap Up
The profile icons will fit perfectly with most social media platforms, and the Twitter header will also work with LinkedIn and Facebook, and Twitter.
Implementing these social media branding assets provides a professional and engaging way to interact with your community and boost your profile's appearance. We hope you found this tutorial useful, and we look forward to seeing the creative ways you use the branding assets on your digital channels :)
- Jenna
Jenna Gibney is the Customer Champion at Gipper. Gipper is a platform that helps high school athletic departments create professional sports graphics for social media - in seconds, on any device, and without needing any design experience.
Learn more @ gogipper.com