Gipper Signs Partnership to Become Official Social Media Graphics Solution Partner of the NYSPHSAA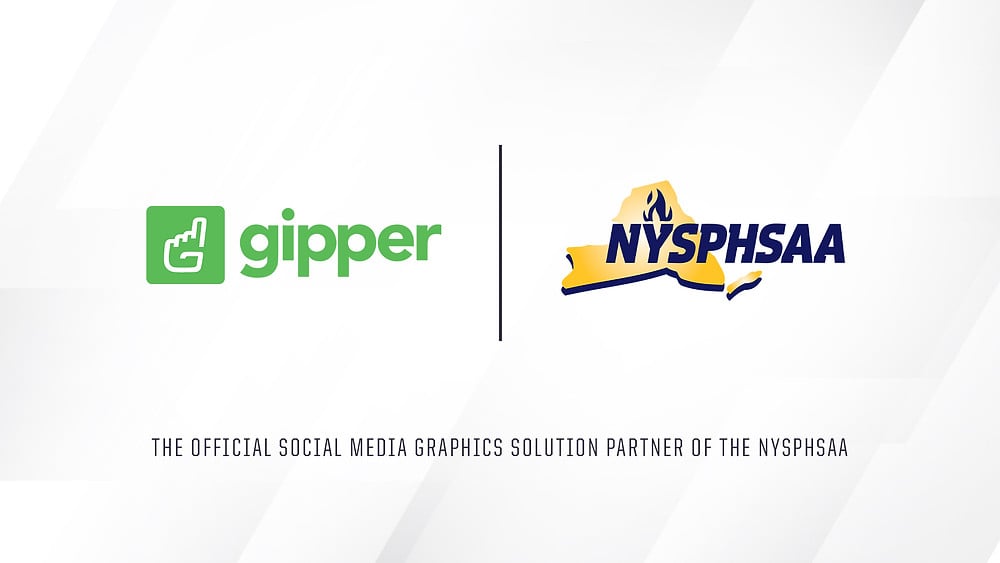 Gipper signs partnership to become the Official Social Media Graphics Solution of the NYSPHSAA
New York, NY (January 05, 2020)— Gipper Media, Inc. (Gipper) and the New York Public High School Athletic Association (NYSPHSAA) have signed a formal agreement to make Gipper the Official Social Media Graphics Solution Partner of the NYSPHSAA. The partnership will include an integrated marketing presence throughout the year, enabling Gipper to connect with and support NYSPHSAA member schools.
"We are excited to partner with Gipper," said NYSPHSAA Executive Director Dr. Robert Zayas. "In addition to using Gipper's platform for our own social media, I am confident that Gipper's services will enhance the digital presence of many of our member schools, and most importantly, save them time and money in the process."
"We are thrilled to partner with NYSPHSAA and to support their member schools," said Matthew Glick, Founder & CEO of Gipper. "Our platform is built for limited resourced departments. High school athletic departments have so many teams and student-athletes to cover but lack the resources to do so effectively. Gipper allows athletic administrators to save time, while creating professional graphics to better grow their brand, engage stakeholders, and drive revenue. As the leading graphics solution platform in the K-12 industry, this was a no-brainer partnership."
NYSPHSAA's new partnership with Gipper marks the first of its kind with the Association and will span from January 2021 through December 2022. Along with various digital marketing opportunities, Gipper will conduct social media webinars that will help NYSPHSAA member schools enhance their social media presence. Gipper also recently signed partnership agreements with New Jersey, Ohio, Virginia, Tennessee, and the District of Columbia.
About Gipper:
Gipper is the leading graphics solution platform in the K-12 industry, enabling schools to create professional graphics for social media - in seconds, on any device, and without needing any design experience. Serving school communications professionals, athletic administrators, and principals - Gipper empowers anyone at a school to create effective and compelling content for social media in just a few clicks. With access to a wide range of ready-made templates and seamless social media sharing, schools can create and share more content than ever, all while spending less time and money. In doing so, schools are able to better grow their brand, improve stakeholder communication, and create additional revenue opportunities.
For athletic needs, try Gipper for free at: https://www.gogipper.com/athletics
For general school needs, try Gipper for free at: https://www.gogipper.com/
For additional information about Gipper, please contact:
Jack Zamore
CMO, Gipper
jzamore@gogipper.com
About NYSPHSAA:
The New York State Public High School Athletic Association Inc. is a non-profit, voluntary, educational service organization composed of public, parochial, and private schools dedicated to providing equitable and safe competition for the students of its member schools. The organization conducts 32 championship events and governs the rules and regulations of high school athletics in New York State. Membership is open to secondary schools providing interschool athletic activities for boys and girls in grades 7-12.
For additional information about NYSPHSAA, please contact:
Joe deGuzman
General Manager for NYSPHSAA – Teall Properties Group
joe.deguzman@teallpropertiesgroup.com | (518) 417-1888