How To: Using a Digital Media Content Calendar to Reach Your Goals
beast. Developing strategies to consistently post and share relevant content is must.
Instituting the use of a content calendar may sound like a big commitment at first, but implementing this strategy will reap dividends in the long run. Read on to learn a bit more about the benefits of planning out your digital media content! Also, feel free to download our Customizable Content calendar template, link below :)
Step 1: What are your goals?
Before you start anything, it is important to define what you are trying to accomplish. What are your goals? Each of you is probably in a different place in the life cycle of your school. Some of you may be starting social media for the first time. Some of you have likely done this for a while and are looking to up your game.
Regardless of where you are, it is important to take a step back and ask yourself, "What is my school trying to accomplish on social media?" Give yourself a barometer for success. A simple goal could be to help keep parents informed. Another could be improving communication with your students. Maybe you're partnering with your development office to better connect with alumni. Maybe you're an athletic director looking to drive revenue for your programs through the use of social media sponsorships. Regardless of your goals, it is important to take the time to define them so you can celebrate once you have achieved them or reevaluate if you're not accomplishing all you would like to.
Where to start?
Keep it simple. You already do a million different things at your school. We're not here to make your job any more difficult than it needs to be.
If you're reading this, you're likely a one person marketing department or an athletic director who is also trying to manage social media on top of your other daily responsibilities. You don't have time for overly in depth templates. Rest easy. You're in the right place. We recommend using this free customizable content calendar template to help you get started.
What's next?
First, choose whether you would like to plan out a month in advance or a week in advance. There are two template offerings, one for a month and one for a week. Just getting started? It may be easier to bite off a week at a time. Regardless of which option you choose, it is critically important to make sure that you set aside time to use the template and plan out your content.
Add a thirty minute to an hour long recurring event to your calendar of choice and HONOR it! It will be tempting to schedule other meetings on top of it. Do not let that happen. Protect that time as doing so will allow you to meet your goals.
Setting aside designated time should give you the space to not only adequately plan your month/week, but also allow you to focus on making higher quality content. Without a plan, you are forced to share anything and everything. Give yourself the breathing room to do your best work. Using a content calendar allows you to effectively allocate your limited resources...time being one of them...and be the best school marketer you can be!
How to Schedule Posts in Advance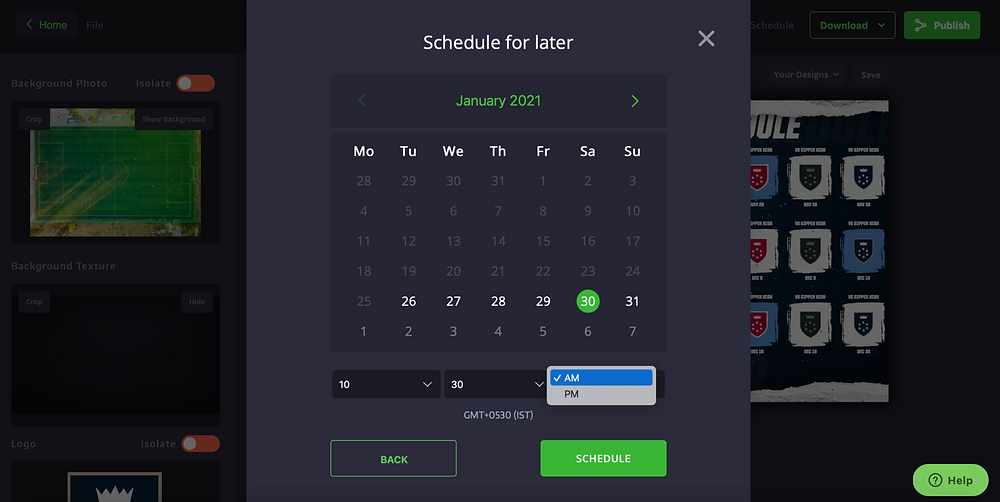 Take it to the next level and schedule your posts in advance. Already using Facebook and Instagram? Make sure you are using Facebook Business Suite as well. As you likely know, Facebook owns Instagram. Facebook Business Suite allows you to more effectively manage your school's Facebook and Instagram accounts from the mobile app or your desktop. Yup, that's right! Post to Instagram straight from your desktop. Business Suite also allow you to schedule posts. Set it and forget it!
You can also schedule posts directly from a school graphics solution like Gipper. This makes it super easy to not only design amazing graphics but also to send them to your social accounts all within the same platform. Gipper also gives you the ability to cancel posts in the case of a change of plans.
Wrap Up
No matter what tool you use, we cannot recommend enough the need to get organized. Using our free digital media content calendar is great way to get started.
Hope this helps and thanks so much for reading!
- Chaston
Chaston Hart is a School Marketing Specialist at Gipper. Gipper is a platform that helps high schools create professional visual content for social media - in seconds, on any device, and without needing any design experience.
Learn more @ gogipper.com