Scheduling Posts in Advance for Social Media
Do I have my content strategy organized? Social Media Content Strategy

Do I have content pillars that engage my audience(s)? Content Pillars

What social networks will work best for my program? Choosing Channels
Rather watch than read? Feel free to watch the video here which discusses everything mentioned in the blog below :)
Intro to Scheduling Posts
How can you make social media feasible on a day to day basis?
The answer is simple = staying consistent and organized.
This can be achieved by using your content pillars and creating a schedule around them. An example: if you know you're posting an Athlete of the Week every Thursday, you can build that right into a weekly schedule! This will help you to craft a consistent look and feel around your program that your followers are used to seeing, and will cause them to keep coming back to your feed.
One way to make this easy for yourself?
Scheduling posts in advance!
This is made incredibly simple on Gipper. Check out the walkthrough below to see how:
Scheduling Posts on Gipper:
To schedule a post, first click the green Publish button in the upper right-hand corner.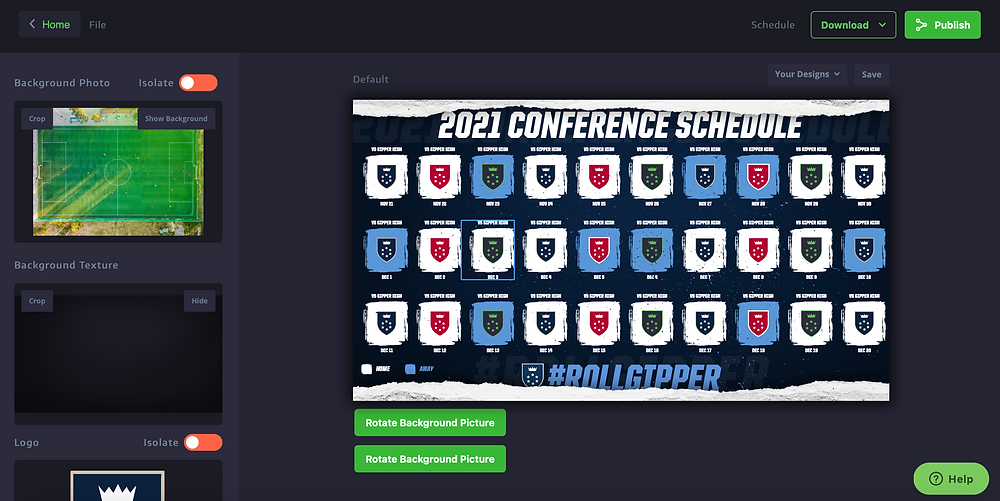 Once you do that, you want to select the social media platforms and accounts you want to publish to, and then hit the green outlined box labeled "Schedule for Later".
A calendar will then pop up where you can select the date that you want the graphic to be posted. You will then see a dropdown menu for selecting the time.
Simply click "Schedule" and it will post to social automatically at the time you entered. It's that easy!
Wrap up
Scheduling your posts using Gipper is a super easy way to plan your social media content out in advance. When used in combination with content pillars, you'll have the tools to create (and execute on) an effective social media content plan for your school!
Oh! And in case of a change in plan, you can always cancel a scheduled post on Gipper in the "Scheduled Posts" menu at the top of the Template Dashboard :)
Hope this helps and thanks so much for reading!
- Divine
Divine Pereira is a School Marketing Specialist at Gipper. Gipper is a platform that helps schools create professional visual content for social media - in seconds, on any device, and without needing any design experience.
Learn more @ gogipper.com