Update: New Your Designs and Template Dashboard!
What's changed?
We've completely overhauled our Template Dashboard and created a brand new Your Designs section on Gipper! In doing so, we will help our users more easily browse/find templates and organize/find their saved designs.
Here's a video that walks through both of these exciting new features:
Feature Update: New Template Dashboard and Your Designs
Learn more about the new Template Dashboard and Your Designs sections below: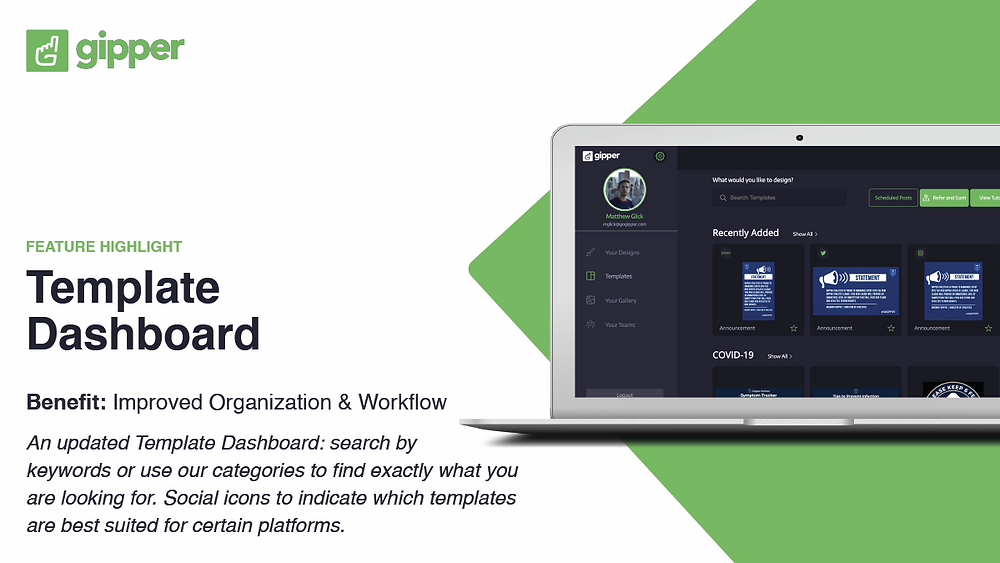 This will help you better find templates based on your needs! More specifically:
Easily locate templates on the Template Dashboard

Search by keywords or browse via pre-selected categories

Social icons to indicate which templates are best suited for certain platforms:
Twitter Icon - dimensions optimized for Twitter, but content will fit perfectly in feed on any major platform (Instagram, Facebook, LinkedIn, etc)

Instagram Icon - dimensions optimized for Instagram

Story Icon - dimensions optimized for Instagram Story, Snapchat, TikTok, and any other vertical formats

Printer Icon - dimensions are perfect for any standard printer paper (great for printing out and placing on bulletin boards, etc.)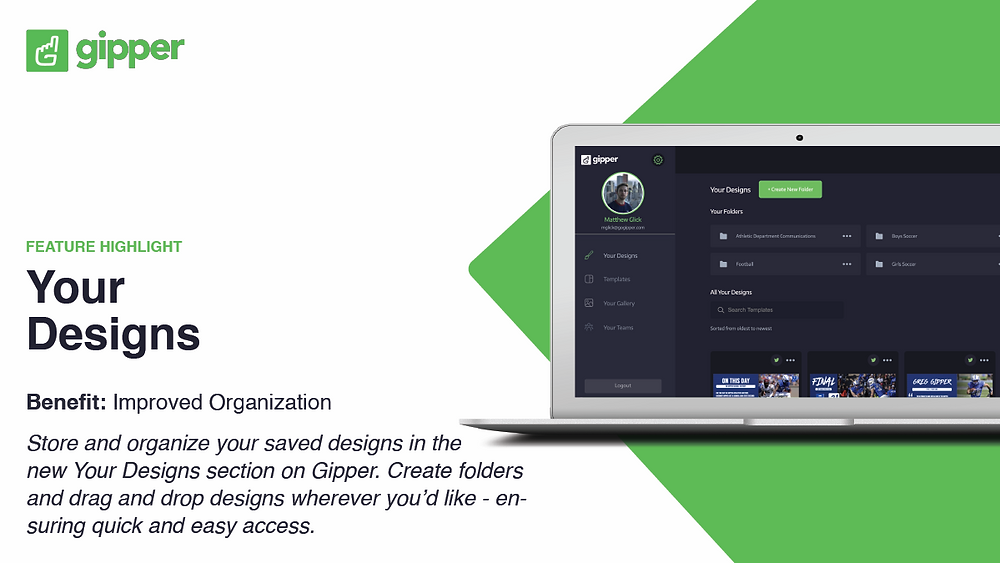 Access Your Designs on the left navigation bar. In this new section, you'll be able to:
Find your saved designs in one, centralized, location on Gipper

Organized your designs into folders of your choosing

Create folders and drag & drop multiple designs at once

Rename and bulk delete designs and/or folders
We're super excited about these new features and hope they make it even easier to stay organized and save time while using Gipper!
Hope this was helpful and as usual, don't hesitate to reach out to us at support@gogipper.com if you have any questions :)
- Jack
Jack Zamore is the Chief Marketing Officer at Gipper. Gipper is a platform that helps high school athletic departments create professional sports graphics for social media - in seconds, on any device, and without needing any design experience.
Learn more @ gogipper.com/athletics