Celebrating Senior Student-Athletes and Your Program on Social Media during COVID-19
As campuses across the country have closed due to the COVID-19 pandemic, high schools are taking to social media to recognize their graduating seniors. In an unprecedented time, this has been a great way to keep school communities together (digitally) and to properly recognize senior student-athletes for their hard work and dedication.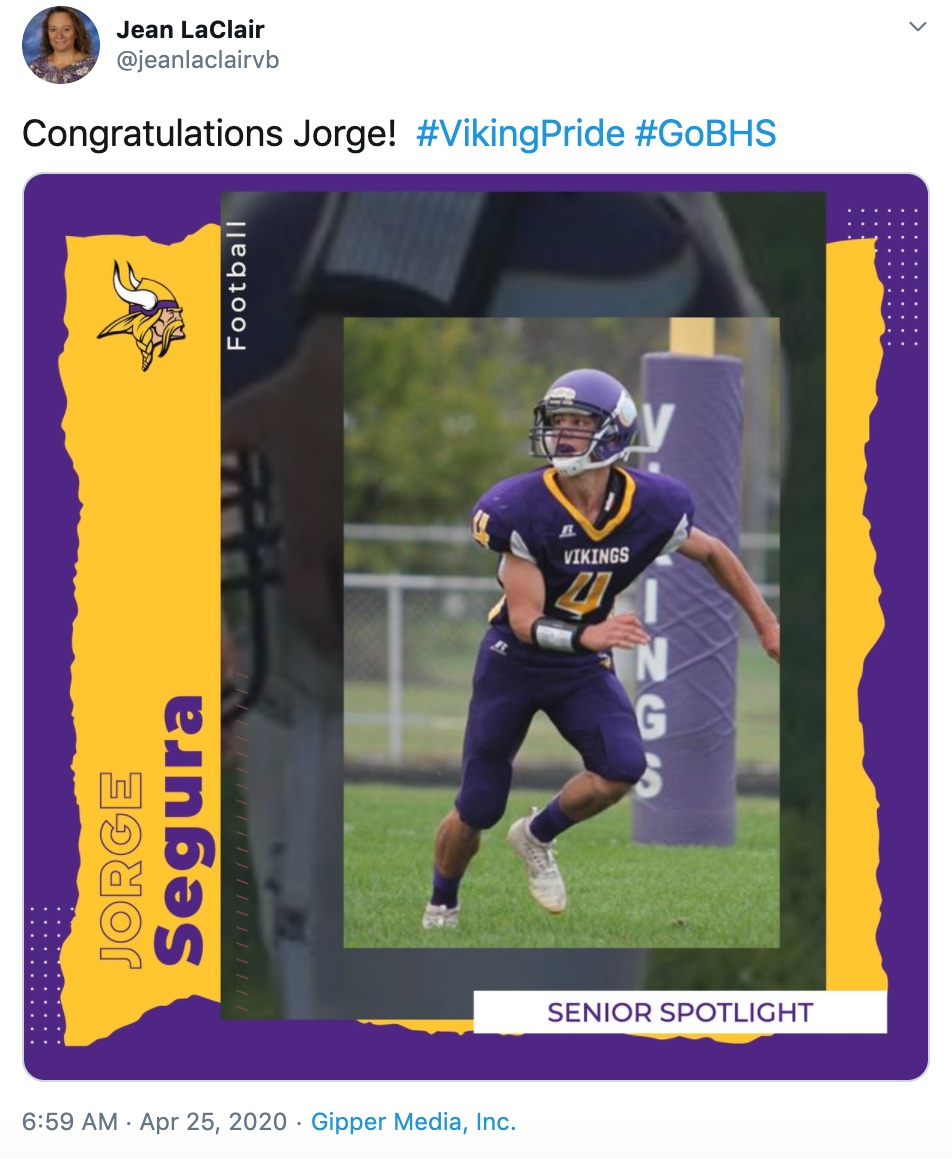 On the right is an example of a "Senior Spotlight" from Bronson High School in Michigan. Bronson's athletic department has been celebrating each of their student-athletes with their own Twitter post and graphic. These posts have received a very warm reception from followers who are deprived of school pride while stuck at home! Senior Spotlights have also helped keep Bronson's social media feeds active and their community engaged during this sports-less time.
Graphic from: Jean LaClair on Twitter
https://twitter.com/jeanlaclairvb
Maintaining school pride on social media has never been more important, and spotlighting seniors is just one of many ways to do that! Below are three more creative ways to celebrate your athletic program this spring (all made easy on Gipper):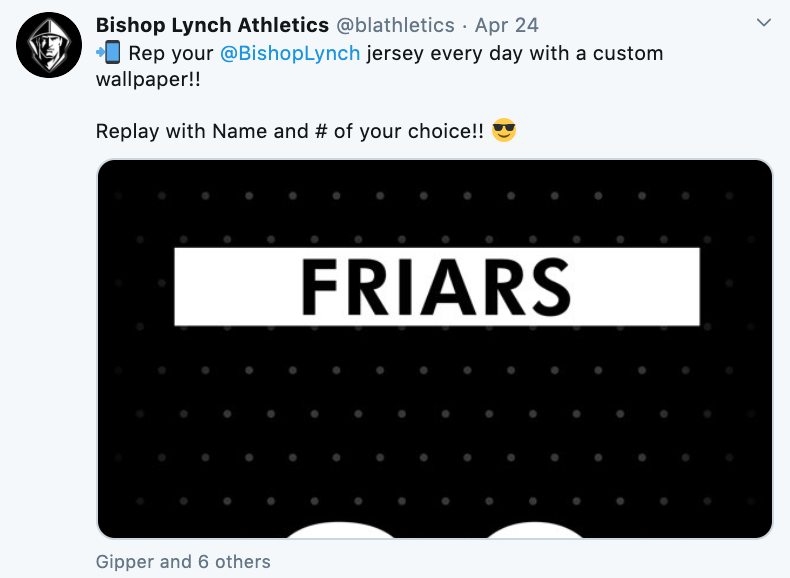 1. Custom Phone Backgrounds
Athletic programs are creating custom "Jersey" wallpapers for their followers! Here is an example from Bishop Lynch High School in Texas. Ask your students to reach out with their name and # - and customize the wallpapers in just seconds using Gipper.
Source:
https://twitter.com/blathletics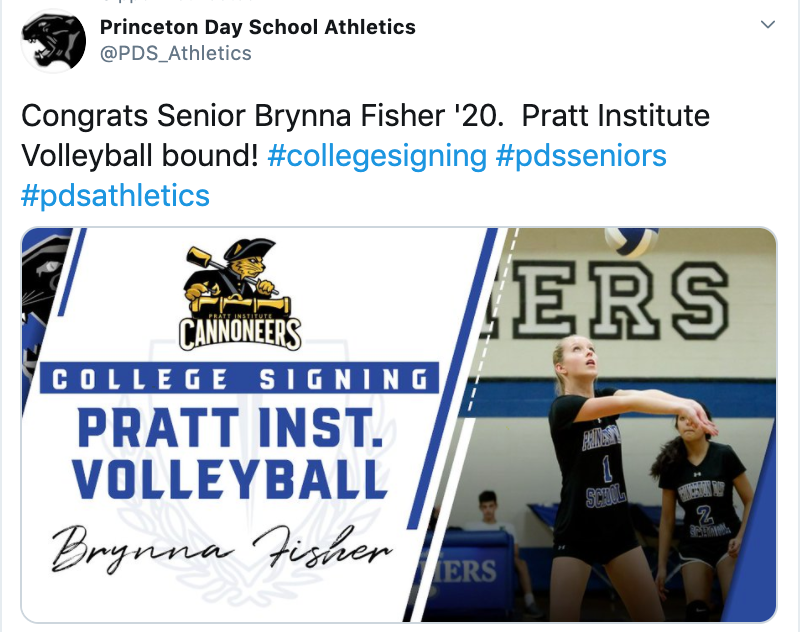 2. College Signings
Look to the future by celebrating student-athletes' college signings! While an official signing day may not be able to happen on campus, you can still recognize your student-athletes, who will be playing at the next level, digitally. Here's an example from Princeton Day School in New Jersey.
Source:
https://twitter.com/PDS_Athletics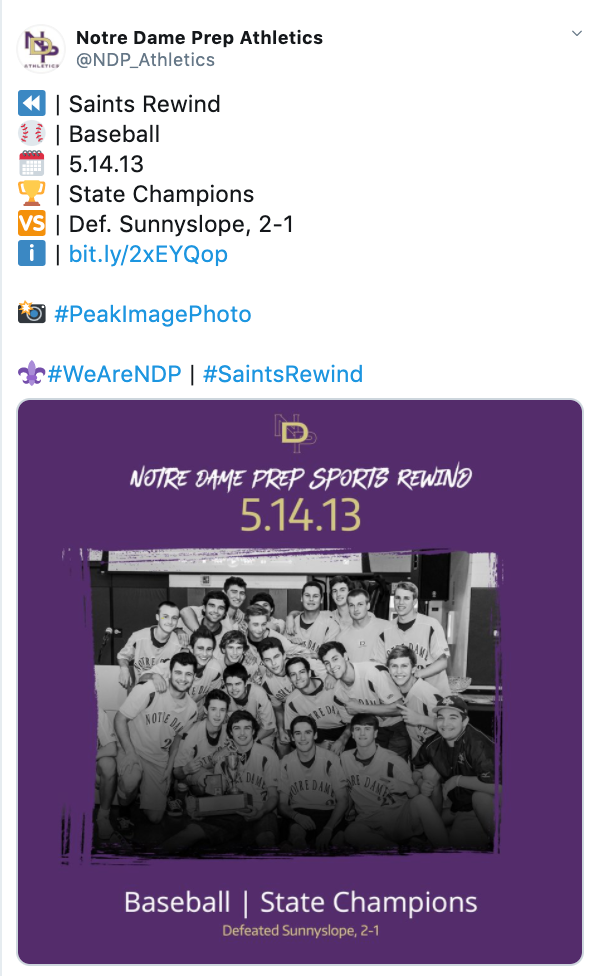 3. Sports Rewind
While there may not be sports going on right now, there are plenty of past athletic moments to celebrate. "Sports Rewinds" will help keep your followers positive and boost school pride!
This is an example of Notre Dame Prep in Arizona remembering a 2013 Baseball Championship.
Source:
https://twitter.com/NDP_Athletics/
Hopefully, you can try out some of these examples for your own program.
Thanks so much for reading and stay healthy!
- Jack
Jack Zamore is the Chief Marketing Officer at Gipper. Gipper is a platform that helps high school athletic departments create professional sports graphics for social media - in seconds, on any device, and without needing any design experience. Learn more @ gogipper.com/athletics