Social Media: Why Schools Need It
The modern day community has been re-imagined with the onset of social media technology that connects people anywhere and at any time. Gone are the days where alumni events are a schools' only means of connection. Now, with Facebook, Twitter and other social media platforms dominating digitally - schools are able to mobilize communities from afar.
In doing so, a school is able to become more than just a static institution that brings alumni back every few years for a fun weekend with friends. Instead, a great social media presence can put a school in the thoughts of its' constituents on a weekly (or even daily) basis. Nonetheless, there's one question most school marketers ask themselves when someone brings up social media: "Is it really worth my time and energy?"
The data answers with a resounding "YES!" A 2018 study conducted by Evertrue determined that participation is 3.4 times higher among digitally engaged constituents and gift likelihood increases with each new Facebook interaction. Factor in a 2014 CASE study that revealed alumni giving is half of what it was in 1990 and it is evident that schools need to find new ways to galvanize their alumni community (CASE Currents, October, 2014). Social media provides a real opportunity to do so. In fact, the top three factors that exert the greatest influence on alumni identity are, in order of influence:
Volunteering for the institution

Joining the institution's official LinkedIn group

Liking the institution's official Facebook page
Two of the three factors that influence alumni identity the most are social media engagements. Simply put, if you're not on social, you are falling behind.
And social media is not just great for keeping alumni engaged. Students and parents live on these platforms:
88% of American adults ages 18-29 use social media networking sites (Statistica, 2019)
16-24 year olds spend, on average, three hours per day on social media (GWI, 2019)
More than 2/3 of U.S. adults are Facebook users, and 75 percent of those users access the site at least daily (Pew Research Center, 2018).
Parents are also demanding increased communication and social media is a critical channel to utilize in order to help meet such expectations. Additionally, prospective students and their parents use social media as a vetting tool for school selection. Therefore, a non-existent or poor social presence means that you are not only leaving money on the table in terms of fundraising, but you are also harming your admissions process. But, this doesn't have to be the case. Invest in a proper social media strategy today and take advantage of the opportunity at hand.
Need some ideas for where to start? Stay tuned for my next articles and reach out via direct message with any questions. Until next time...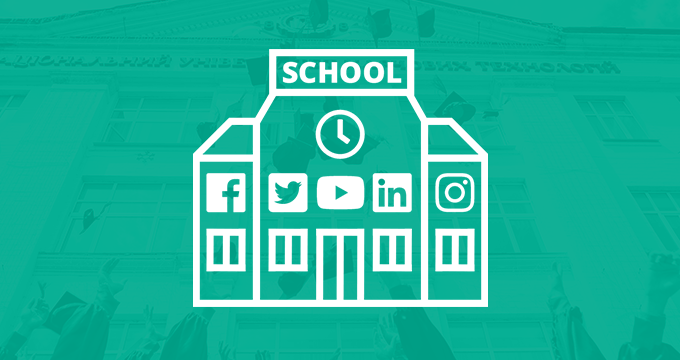 #SocialMediaMarketing #SocialMediaForSchools #Gipper #GoGipper