Gipper Signs Partnership to Become an Official Sponsor of CIF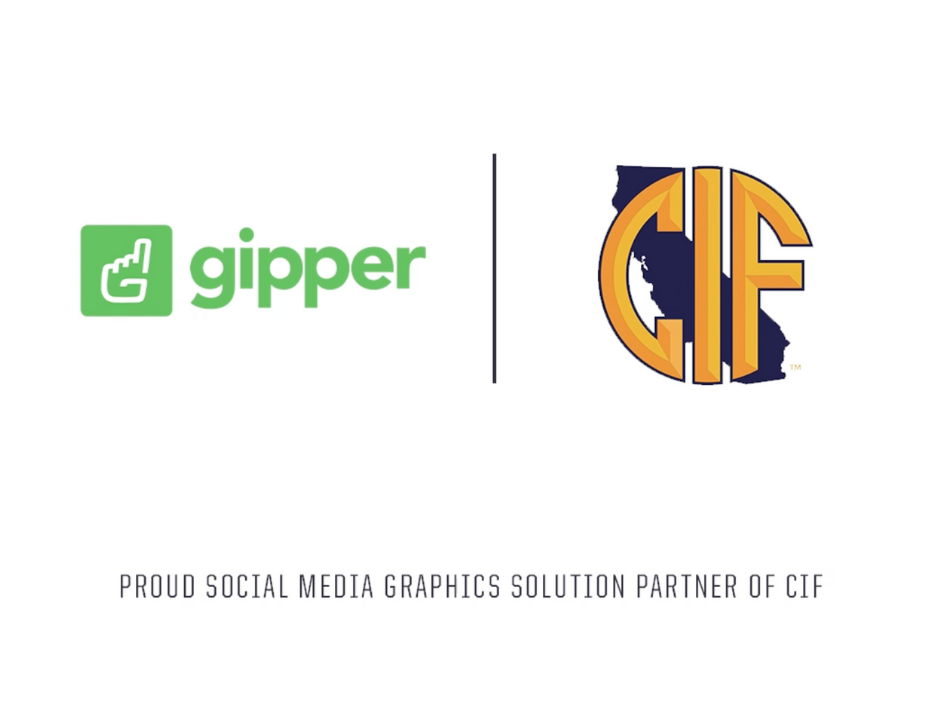 New York, NY (March 4, 2022) — Gipper Media, Inc. (Gipper) has signed a partnership with the California Interscholastic Federation to become a Proud Social Media Graphics Solution Partner of the CIF. The comprehensive partnership will include an integrated marketing presence throughout the year, enabling Gipper to connect with and support CIF schools.
"We are pleased to announce our new partnership with Gipper," said Meaghan Manghera, General Sales Manager of CIF Sports Properties. "Through their user-friendly design templates and editing options, Gipper can help our member schools and their athletic departments easily create high-quality custom content for their social platforms to better support and communicate with our student-athletes, fans, and communities."
Gipper provides a critical tool for schools to better communicate and engage with their stakeholders. The easyuse platform enables athletic departments and teams to create professional sports graphics for social media - in seconds, on any device, and without needing any design experience. Users can access a range of ready-made templates that they can customize and share directly to social media in just a few clicks.
"We are absolutely thrilled to sign this partnership with the CIF," said Matthew Glick, Founder & CEO of Gipper. "The CIF is dedicated to serving their member schools, student-athletes, and administrators - which aligns with everything we do at Gipper. High school athletic departments have so many teams and student-athletes to cover, but often lack the resources to do so effectively and equitably. Gipper allows athletic directors to save time while creating professional sports graphics to better grow their program's brand, promote their student-athletes, engage stakeholders, and drive revenue. We are excited to work with the CIF to expand our reach as the leading social media graphics solution platform in the K-12 industry."
About Gipper: Gipper is the leading social media graphics solution platform in the K-12 industry, enabling schools to create professional graphics for social media - in seconds, on any device, and without needing any design experience. Serving school communications professionals, athletic administrators, coaches and principals - Gipper empowers anyone at a school to create effective and compelling content for social media in just a few clicks. With access to a wide range of ready-made templates and seamless social media sharing, schools can create and share more content than ever, all while spending less time and money. In doing so, schools are able to better grow their brand, improve stakeholder communication, and create additional revenue opportunities.
About the California Interscholastic Federation (CIF): Created in 1914, the CIF is the governing body for high school sports in the state of California. CIF is uniquely positioned to foster student growth in values and ethics. CIF's ideal of "Pursuing Victory with Honor," provides the opportunity to influence the actions of the athletic community. CIF strives to promote equity, quality, character, and academic development. CIF is a nonprofit federation and the state office, located in Sacramento, Calif., represents the interests of its member Sections. The 10 Sections represent geographic regions within the state: Central, Central Coast, Los Angeles City, North Coast, Northern, Oakland, Sac-Joaquin, San Diego, San Francisco, and Southern. CIF represents 1,609 public and private member schools and more than 850,000 student-athletes. CIF conducts Regional and State Championships in badminton, baseball, traditional competitive cheer, cross country, football, volleyball, tennis, wrestling, basketball, soccer, softball, swimming & diving, track & field, golf, and water polo. CIF Sections conduct championships in more than 26 sports. Visit CIF at CIFState.org and follow on Facebook, Twitter and Instagram @CIFState.
For athletic needs, try Gipper for free at: gipper.com/athletics
For general school needs, try Gipper for free at: gipper.com
For additional information about Gipper, please contact:
Jack Zamore
COO, Gipper jzamore@gogipper.com www.gogipper.com/athletics