Gipper Signs Partnership to Become Official Sponsor of The Great Lakes Alliance & Ohio Valley Premier League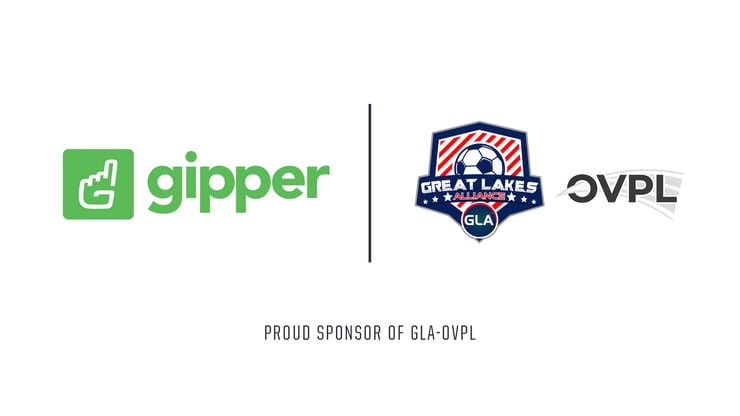 New York, NY October 1, 2022 — Gipper Media, Inc. (Gipper) has signed a partnership with the Great Lakes Alliance & Ohio Valley Premier League to become its Official Social Media Graphics Solution. The comprehensive partnership will include an integrated marketing presence throughout the year, enabling Gipper to connect with and support GLA & OVPL's club teams.
"We are delighted to announce that we have partnered with Gipper." Stated OVPL Co-Founder, Jason Brown. "One of the best assets we added to our social media strategy was Gipper. It saves a lot of time and gives us versatility in customizing text for different audiences. The one-click functions are easy to operate and allow for quick posting to all our social media channels. GIpper aligns with our goals of affordability, flexibility, and building community."
Director of Great Lakes Alliance, Ed Bernstein, added "As a leader in league, event and program development our efforts at Great Lakes Alliance are often squarely focused on operating at the highest level. Adding the professionalism, expertise and most of all the ease of using Gipper to our promotional toolbox gives us what we need to create authentic promotional tools that stay on brand and style with little effort. Social media management and marketing have never been so easy."
Gipper provides access to a wide range of ready-made templates that can be customized in seconds, on any device, and without needing any design experience. GLA & OVPL affiliated club programs can now create and share more content than ever to promote their athletes and continue growing their programs.
"We are absolutely thrilled to sign this partnership with the Great Lakes Alliance and Ohio Valley Premier League" said Matthew Glick, Founder & CEO of Gipper. "Social media offers a massive opportunity for youth sports clubs nationwide. However, clubs are often limited on time, resources, and expertise - which makes maximizing social media difficult. Gipper allows them to save time, while creating professional sports graphics to better grow their program's brand, promote their athletes, showcase highlights, engage stakeholders, and drive revenue. We are excited to work with GLA & OVPL to expand our reach as the leading social media graphics solution platform in the industry."
Gipper supercharges digital storytelling for sports organizations of all sizes. Our platform helps athletic administrators and coaches create professional-looking sports graphics in seconds for use on social media, websites, and signage. Gipper empowers sports professionals to connect with their communities in a way that increases engagement, fosters brand affinity, fuels talent acquisition, and drives sponsorship opportunities.
About GLA & OVPL
The Great Lakes Alliance (GLA) was formed in the year 2017 and currently has over 600 teams participating in its US Club sanctioned league. GLA has member clubs coming out of Indiana, Kentucky, Michigan, Ohio, New York, Pennsylvania and West Virginia with approximately 8500 players. GLA is a member of US Club Soccer National Premier League (NPL) platform, ECNL-RL Platform and the US Soccer Federation.
The Ohio Valley Premier League (OVPL) is the premier U23 adult amateur soccer competition throughout the Ohio Valley region (Indiana, Kentucky, Ohio, Pennsylvania, and West Virginia). The Ohio Valley Premier League (OVPL) was founded to fill the void for the region's soccer clubs by elevating the player pyramid to continue the U23 player's development pathway. The OVPL is a member of US Club Soccer, open to men's and women's teams.
For additional information, or if you are interested in partnering with Gipper, please contact:
partnerships@gogipper.com