Gipper Named Exclusive Social Media Graphics Solution Partner of NFHS in Expanded Partnership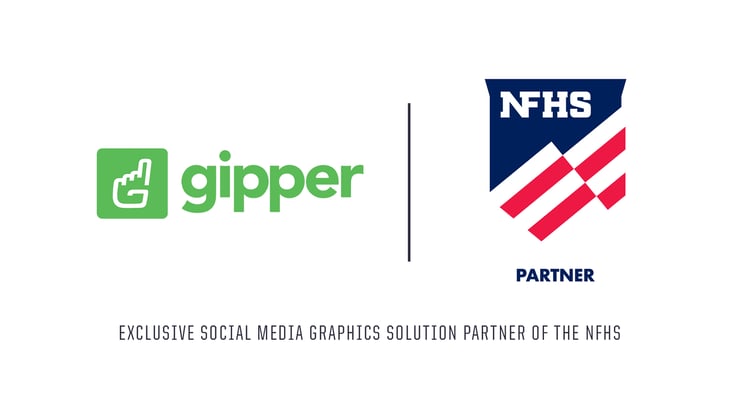 New York, NY January 19, 2023 — Gipper Media, Inc. (Gipper), the leading sports graphics creation platform and management platform for sub-professional sports, and the National Federation of State High School Associations (NFHS) have announced a new multi-year partnership expanding upon the existing agreement. Gipper will now carry the designation of the exclusive graphics solution partner of the NFHS.
The expanded partnership will include an integrated marketing presence throughout the year and additional presence at the annual National Athletic Directors Conference and summer meeting. All NFHS members will receive professional development provided by the Gipper team to educate them about social media best practices. NFHS members will also have exclusive access to purchase Gipper plans at discounted rates, including up to 30% off from now until February 19, 2023.
"The NFHS is excited to continue and expand its partnership with Gipper," said NFHS CEO Dr. Karissa Niehoff. "Our staff has been able to utilize the Gipper platform firsthand and the ability to quickly and easily create social media content has been terrific. We are excited to expand our relationship and assist state associations and schools in utilizing Gipper's features."
With access to a wide range of ready-made sports graphics templates that can be customized in seconds, on any device, and without needing any design experience, schools and state associations will be able to create and share social media content that will help drive participation, engage their community and fans, amplify student-athletes, and drive revenue through sponsors.
"As the leading social media content creation and management platform for sub-professional sports organizations - this expanded partnership with the NFHS reflects our commitment to provide best-in-class technology to support K-12 athletic departments' social media efforts." Said Matthew Glick, Founder and CEO of Gipper. He continues, "Social media is the most critical marketing and communication channel for high school athletic departments, but so often departments aren't able to maximize social media due to lack of time, resources, and expertise. We've already helped 3,000+ K-12 athletic departments overcome this problem - and we're excited to continue to help thousands more."
Learn more:
Gipper Solutions for High School Athletics
About the NFHS:
The NFHS, based in Indianapolis, Indiana, is the national leadership organization for high school sports and performing arts activities. Since 1920, the NFHS has led the development of education-based interscholastic sports and performing arts activities that help students succeed in their lives. The NFHS sets direction for the future by building awareness and
support, improving the participation experience, establishing consistent standards and rules for competition, and helping those who oversee high school sports and activities. The NFHS writes playing rules for 17 sports for boys and girls at the high school level. Through its 50 member state associations and the District of Columbia, the NFHS reaches more than
19,500 high schools and 12 million participants in high school activity programs, including more than 7.9 million in high school sports. As the recognized national authority on interscholastic activity programs, the NFHS conducts national meetings; sanctions interstate events; offers online publications and services for high school coaches and officials; sponsors
professional organizations for high school coaches, officials, speech and debate coaches, and music adjudicators; serves as the national source for interscholastic coach training; and serves as a national information resource of interscholastic athletics and activities. For more information, visit the NFHS website at www.nfhs.org.
About Gipper
Gipper supercharges digital storytelling for sports organizations of all sizes. Our platform helps Club Directors, Coaches, and Athletic Administrators create professional-looking sports graphics in seconds for use on social media, websites, and signage. Gipper empowers sports professionals to connect with their communities in a way that increases engagement, fosters brand affinity, fuels talent acquisition, and drives sponsorship opportunities.
For additional information, or if you are interested in partnering with Gipper, please contact:
Avram Doomchin