WeCOACH Partners With Gipper To Help Coaches & Athletic Administrators Create Custom Social Media Content To Better Highlight Their Athletes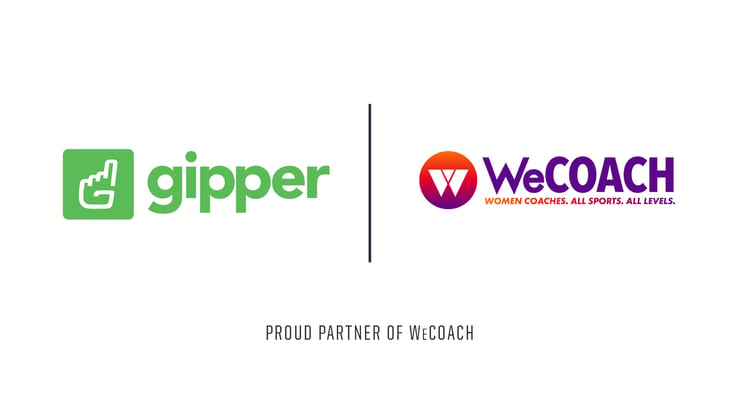 New York, NY (November 3, 2022) — Today Gipper Media, Inc. (Gipper) the leading social media content creation and management platform for sub-professional sports, and WeCOACH, a non-profit dedicated to recruiting, advancing & retaining women coaches in all sports levels, announced a partnership to provide WeCOACH members with tools and resources to streamline their social media.
With access to a wide range of ready-made templates that can be customized in seconds, on any device, and without needing any design experience, coaches and athletic administrators can create and share more social media content than ever before. WeCOACH members will have access to Gipper's wide variety of templates to seamlessly provide additional exposure and promotion for their athletes.
Vanessa Fuchs, CEO of WeCOACH stated, "Through this exciting new partnership, our WeCOACH members will be provided affordable access to Gipper's platform to elevate and enhance their brand and communication engagement through social media—both their personal brand as well as the program they lead. We look forward to Gipper's team of experts sharing social media best practices with our Community on November 15."
"Representation matters and its ripple effects are contagious. It matters in coaching. It matters in the content you produce for social media." stated Avram Doomchin, Director of Partnerships at Gipper. "We are thrilled to enter into a partnership with WeCOACH and help in their effort to provide professional growth to their members while also lowering their barrier of entry to sign up and create content for their programs using Gipper."
Learn more:
Gipper x WeCOACH
Gipper Solutions for College Athletics
Gipper Solutions for High School Athletics
Gipper Solutions for Club & Youth Sports
About WeCOACH:
WeCOACH is a one-of-a-kind nonprofit membership organization dedicated to recruiting, advancing, and retaining women coaches in all sports and levels through year-round professional growth & leadership development programs. WeCOACH aims to be the global leader in recruiting, advancing, and retaining women coaches to exponentially increase the number of women in all sports and levels.
Learn more about WeCOACH at wecoachsports.org.
About Gipper
Gipper supercharges digital storytelling for sports organizations of all sizes. Our platform helps athletic administrators and coaches create professional-looking sports graphics in seconds for use on social media, websites, and signage. Gipper empowers sports professionals to connect with their communities in a way that increases engagement, fosters brand affinity, fuels talent acquisition, and drives sponsorship opportunities.
For additional information, or if you are interested in partnering with Gipper, please contact:
Avram Doomchin
partnerships@gogipper.com