Template Tuesday: New Graphic Templates for Golf, Senior Spotlight, Standings & More
We've added new social media templates for your sports graphics and school graphics available now on Gipper!
All of our newly added templates this week are in Portrait Mode (4:5) sizing. That means you can post this one size to all of your social media platforms. Here's what's new:
Athletics/Sports Graphics Templates
Player Scorecard Graphic Template: Golf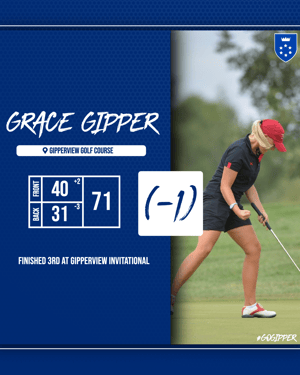 Want to highlight one of your golf athlete's games? Use this scorecard graphic template and round up an athlete's front and back nine performance. Plus, add a photo of the athlete in action for a nice spotlight that you can share on social media!
Senior Spotlight Graphic Template: Multi-Sport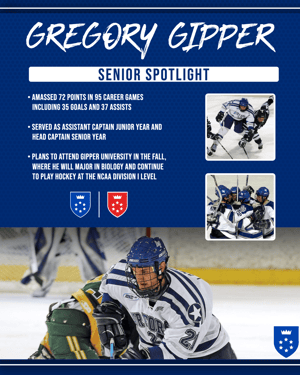 Highlight one of your senior student-athletes with our senior spotlight graphic template! Include some of their standout statistics, fun facts, highlights, & more. Plus, add up to three photos on this template! If you're looking for an easy and creative way to share appreciation for one of your seniors on social media, this is the template for you.
Standings Announcement Graphic Templates: Multi-Sport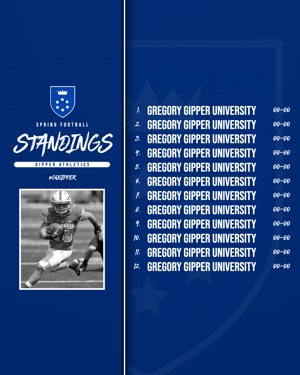 Give your community a standings update with our standings graphic template. Highlight how you or your teams rank in your conference or league with this template. Showcase up to 12 teams or athletes and even add a photo. This graphic template is perfect for sharing a mid-season update or regular-season review.
Player Stats Graphic Template: Baseball, Softball, Multi-Sport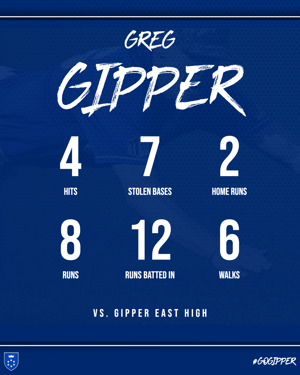 Highlight a standout player of the game with our player statistics graphic template. Call out total runs, hits, walks, and more, and post this graphic to social media so your entire community can celebrate your standout player!
This template is primed for baseball and softball statistics but it is completely editable. Change the spotlighted statistics for football, soccer, hockey, basketball, and more!
Daily Schedule Graphic Template: Multi-Sport, School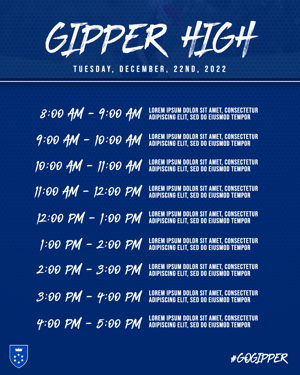 There's always a lot going on in athletics, especially as a season winds down. Keep yourself and your community organized with our daily schedule graphic template. Outline a single day hour-by-hour and break down all the need-to-know information so your fans know when and where to attend events.
This template isn't just for athletics! Share your academic, extra-curricular, or school schedule with this graphic template as well. Explore our School Plans!
Committed Athlete Graphic Templates: Multi-Sport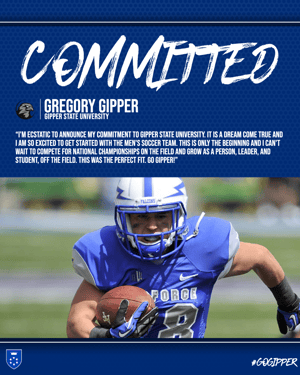 Committing to a college or university is an exciting day for high school athletes. Celebrate their achievement and generate some hype from your community by announcing commitments on your social media channels! Use this graphic template to share where an athlete has committed alongside a quote and photo!
All-Academic Announcement Graphic Templates: Multi-Sport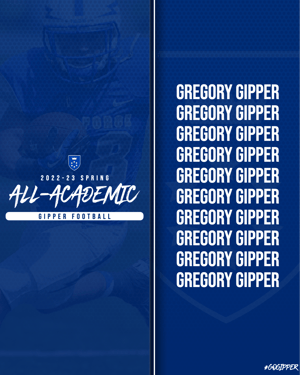 Announce your student-athletes who have achieved all-academic status with our all-academic announcement graphic template! Share this huge accomplishment on social media by highlighting all of your nominees on one graphic.
Quote Graphic Templates: Multi-Sport
Share a quote from a coach, athlete, or fan with our quote templates. Want to share your coach's statement after a tough loss, or a star athlete's comments on a game-winning touchdown? Share a quote and photo all in one, or stick to a text-only graphic. Post your graphic to social media so your entire community can stay informed!