Gipper Announces Signing of Partnership with National Organization of Minority Athletic Directors (NOMAD)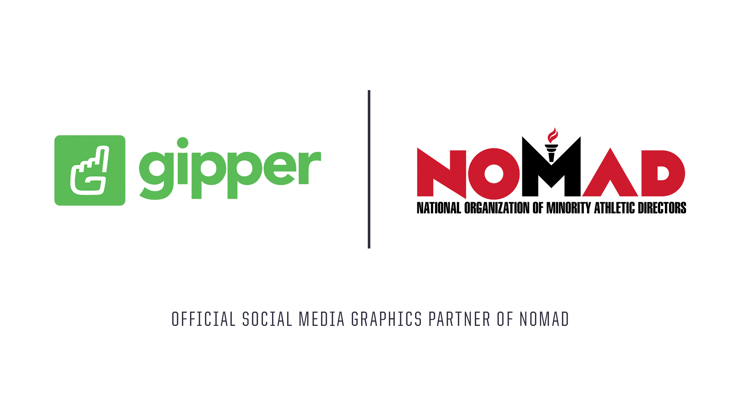 New York, NY (June 8, 2022) — Gipper Media, Inc. (Gipper) has signed a partnership with the National Organization of Minority Athletic Directors (NOMAD) to become the organization's Official Social Media Graphics Solution. The partnership will benefit both organizations in their missions to foster and support diversity, equity, inclusion, and belonging (DEIB) initiatives as well as amplify DEIB voices in athletics and administration.
The partnership will enable the NOMAD team to promote its DEIB education with high-quality graphics and elevate its overall social media presence. In turn, NOMAD will expose its members to the tools and resources Gipper supplies to promote the development of athletic directors and their programs.
"NOMAD is thrilled to enter into a mutually beneficial partnership with Gipper. Utilization of the Gipper product will allow our NOMAD marketing team the ability to efficiently produce high-quality and visually appealing communications for social media," said Antony M. Fisher, CMAA, Co-Founder of NOMAD, District Director of Athletics for Minneapolis Public Schools, and a member of the NIAAA Board of Directors. "Through this agreement, the goal of both organizations is to further educate our collective networks on all matters related to diversity, equity, inclusion, and belonging. I believe that both brands will be enhanced significantly through this partnership."
NOMAD and Gipper will jointly build a free virtual DEIB education course and certification available on the Gipper Learn platform. Gipper will develop specialized social media professional development seminars for NOMAD members, and NOMAD will provide DEIB educational opportunities for the Gipper team.
"Gipper firmly supports NOMAD's mission to support and develop minority and underrepresented athletic directors in secondary schools," said Matthew Glick, Founder and CEO of Gipper. "We are so excited to be a significant part of this positive change in athletic departments nationwide, and we also want this to impact the world of sports technology. As one of the fastest-growing companies in sports tech, we want to make sure our company is representative of the values that we share and the communities that we serve. Internally, we are working to further our investment in DEIB and we look forward to working with the NOMAD team to amplify their great work, bring value to their member ADs through exposure to Gipper, and better foster DEIB within our team."
About Gipper:
Gipper is the leading social media graphics solution platform in the K-12 industry, enabling schools to create professional graphics for social media - in seconds, on any device, and without needing any design experience. Serving school communications professionals, athletic administrators, coaches and principals - Gipper empowers anyone at a school to create effective and compelling content for social media in just a few clicks. With access to a wide range of ready-made templates and seamless social media sharing, schools can create and share more content than ever, all while spending less time and money. In doing so, schools are able to better grow their brand, improve stakeholder communication, and create additional revenue opportunities.
About the National Organization of Minority Athletic Directors (NOMAD):
NOMAD is a professional organization that supports and develops minority and underrepresented athletic directors in secondary schools. NOMAD seeks to provide resources, such as mentoring, the sharing of ideas, networking and leadership development in order to increase membership, participation and opportunities for minority and underrepresented athletic directors. In doing so, NOMAD will empower its members and create an environment of professionalism, mutual respect and understanding, while supporting the values of diversity, equity and inclusion.
To learn more about the partnership, please visit gipper.com/nomad
For additional information, or if you are interested in partnering with Gipper, please contact:
Avram Doomchin partnerships@gogipper.com